We decided it was time to post this information as a lot more computer work is coming our way lately.  It seems that the first question is how much do you charge.  Those of you that have used our handyman services know that we prefer to use a flat charge after a physical visit and have our clients comfortable with the flat amount before we ever start the project.  With computer's it's not only different from handyman projects; it is a completely different skill set.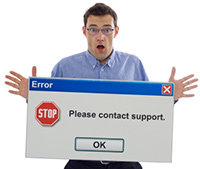 Computer fixing is more like a combination of diagnosing, experimenting, setup changes and/or programming changes to try to resolve problems.  Of course installing new programs if pretty straight forward, but repairs are tough. So we have come up with some standard ways of charging that doesn't penalize our clients, for their lack of knowledge, when trying to explain to us the issues they are having. Therefore, before coming out to your house, we will talk through the issues with you on the phone and make sure we fully understand the problem before visiting with you.
To answer your first question our charges:
Physically On-site at your location:
$90 per hour for physical on site hours rounded to the nearest 15 minute increment ($22.50 per 15 minutes). Starting after the first 30 minutes of travel, one-way travel-time to you is charged from 19465 (South Coventry Township in Pottstown) at the same rate as on site. There is no charge for travel within a half hour of 19465.
Remote Access To Your System:
$84 per hour of remote access to your system rounded to 5 minutes increments ($7 per 5 minutes). No charge up to the first 15 minutes of your explanation of the issues.  After the initial explanation, the minimum charge is 15 minutes and starts AFTER we have agreed to fix the issue and when we successfully connect to your system. You may need to download a small program to install on your system to allow remote access connection.  This can be removed after we completed the issue.
Telephone Consultations:
$75 per hour for telephone only support rounded to 5 minutes increments ($6.25 per 5 minutes). Minimum charge is 15 minutes and starts AFTER you have fully explained the issue, we have agreed to fix the issue and we've agreed to start the timing. No charge for the first fifteen minutes of your first call each week. You can call once a week and the first 15 minutes of the first call that week is free.
We work on all non-server versions of Windows.  We provide Domain name hosting, Website Programming and website hosting. Website hosting for most sites is less than $4 per month, paid in advance for a three-year term. Website design and Setup is available. GW is a WordPress expert. We will also work on Wireless issues and Local Area Networks in homes and small businesses.
If you need further explanations or have questions, please give a call at 610.906.1498 and we'll be happy to discuss any issues.